Loans you can afford
Access the money you need to cover essential costs or fund your dreams and life goals. Our loans are much more affordable than payday and doorstep options and competitive with many you'll find on the high street. That's why we have a 5-star rating from the Fairbanking Foundation.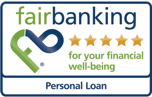 The Annual Percentage Rate (APR) varies according to the size of the loan. For example, loans from £2,500 to £4,999 have a Representative APR of 20.9%. Please refer to the interest rate table for more details.
The maximum APR is 42.6% for a loan of less than £1,750.
You can borrow from £100 to £15,000 and spread your repayments over 1 month to 2 years for loans between £100 and £1,750, repay over 1 month to 3 years for loans from £1,750 to £2,500 or over 1 month to 5 years for loans above £2,500. Loans are subject to status. 
What works for you is good for your community too. Unlike other lenders, we don't send profits to faraway shareholders. Your interest only benefits members in our local neighbourhoods.
We're on your side, so we'll always consider you for a loan even if you've been turned down elsewhere.
Fixed interest rates and no hidden fees or late payment charges
Flexibility to repay weekly, fortnightly or monthly 
Everyone considered 
Interest rate
From £100 to £1,749 - 42.6% APR
From £1,750 to £2,499 - 32.9% APR
From £2,500 to £4,999 - 20.9% APR
From £5,000 to £7,499 - 15.9% APR
From £7,500 to £15,000 - 10.9% APR
Representative example
Borrow over months, and repay per month, total amount payable (including interest of ) is . % APR representative.
Try our calculator to see what your payments would be and the total interest you would pay based on your borrowing requirements.
Try the calculator